Board Briefs
News from the Spring Branch ISD Board of Trustees
---
Board Briefs June 27, 2016
Board of Trustees Regular Meeting Agenda
Board Agenda >>
Board meeting videos now available online >>


Opening Remarks
Superintendent Dr. Scott Muri updated Trustees on the status of applicants for the vacancy in Board Position No. 1 created by the retirement of Trustee Wayne Schaper, Sr., who submitted his resignation for health reasons recently. He has served Spring Branch for 55 years as a teacher, coach, principal, administrator and Trustee.
Dr. Muri noted that 28 applications were accepted by the June 27 noon submission deadline. The applicants included these SBISD residents: Kathy Abshire, Craig Adams, Frank Blackwood, Jennifer Cobb, Virginia Elizondo, Misty Ellis, Michael Ferrier, Sheri Suarez Foreman, Catherine Gentry, Hans Graff, Brad Greer, Kurt Hanson, Hilary Howard, Julie Jaehne, Traci Jensen, Josef Klam, Benjamin Leung, Charlene Adams-Mahaley, William Murphy Jr., Josh Pratt, Ananya Sarkar, Heather Sheffield, Maria Straus, Dmel Tatum, Mohamad Tlass, Douglas Ustick, Thomas Wier III and Brett Williams.
The Board of Trustees then called a Special Meeting beginning at 5 p.m. on June 29 to review and consider possible action regarding appointment of an applicant to fill the Board vacancy.
Position No. 1 appointment >>
Board action on the Trustee Position No. 1 appointment >>
In other remarks, the Superintendent praised Associate Superintendent of School Performance Tyler Ream and Executive Director of Strategic Leadership and Innovation Elliott Witney for the three-day Leadership U program held June 21-23 at Stratford High School. The two leaders and their staff members led an inspiring example of #CollectiveGreatness through special talks, leadership training exercises and student fine arts performances. More than 200 district principals, administrators and staff attended the multimedia sessions over several days.
---
#IAMSBISD
Trustees recognized two #IAMSBISD medallion recipients. The #IAMSBISD medallion is awarded by Dr. Muri and Senior Staff members to individuals and teams who exemplify and live out the district core values of #EveryChild, #Collaborative Spirit, #CollectiveGreatness, #Limitless Curiosity and #MoralCompass. Medallion recipients are invited to Board of Trustees meetings to receive a pin emblazoned with the particular core value for which they are being recognized.
Westwood Elementary teacher Bridgette Stinnett was recognized for her #CollaborativeSpirit in mentoring student teachers. Photographed left to right are Board President Karen Peck, Ms. Stinnett, Human Resources' Marianne Cribbin and Dr. Muri.
Associate Superintendent of Human Resources Marianne Cribbin recognized Westwood Elementary teacher Bridgette Stinnett for her #CollaborativeSpirit in mentoring student teachers. She has served as a mentor teacher to seven student teachers in the past few years – more than any other SBISD teacher.
"We believe it is important that our teachers serve as models for our aspiring colleagues, and we believe there is no finer place to learn the art and science of teaching than in Spring Branch," Associate Superintendent Cribbin said. "Ms. Stinnett has been incredibly generous in her time and dedication to those entering the teaching profession."
"If one considers that an elementary teacher has a conservative number of 20 students per year and one multiplies that times seven, Ms. Stinnett's mentorship could impact 140 students each year. What an amazing legacy!"
SBISD's Community Relations Officer Linda Buchman recognized Amy Taylor of Chapelwood United Methodist Church for #CollaborativeSpirit. Photographed left to right are Board President Karen Peck, Buchman, Ms. Taylor and Dr. Muri.
Community Relations Officer Linda Buchman then recognized Amy Taylor of Chapelwood United Methodist Church, also for #CollaborativeSpirit. With her leadership, the church and school district have grown a decades-long partnership to new heights.
"Amy led this congregation's efforts to be the first SBISD partner to co-brand its local serving opportunities with SBISD's T-2-4 goal. United with this shared goal for our children, Amy has championed volunteer opportunities for Chapelwood members within SBISD, helping to grow and nurture the church's myriad mentoring, tutoring and other serving opportunities in our schools," Community Relations Officer Buchman said.
---
Recognition of Trustee Wayne F. Schaper, Sr.'s SBISD Service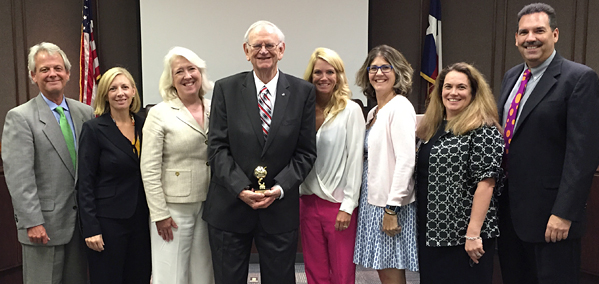 Retiring Trustee Wayne F. Schaper, Sr., was presented with a Golden Apple in honor of 55 years in service to the district as an educator, leader and Board Member. Standing, left to right, at his final meeting are Board Members J. Carter Breed, Chris Vierra, Karen Peck, Mr. Schaper, Pam Goodson, Chris Gonzalez, Katherine Dawson and Dr. Muri.
Board of Trustees President Karen Peck and Board Members honored retiring Trustee Wayne Schaper, Sr. for his 55 years of service in the district as teacher, leader and Board member. He retired from the Board officially at the conclusion of his June 27 meeting duties.
Mr. Schaper was presented with a Golden Apple by his colleagues in tribute to his distinguished career in local public education and incredible service and leadership on the Board. He received this award following an afternoon reception that drew hundreds of well-wishers and event speakers who included former SBISD Superintendent Dr. Duncan Klussmann, former Trustee Mike Falick and three Houston City Council representatives – Brenda Stardig, Jack Christie and Mike Knox.
At the Board Meeting, President Peck noted that although Mr. Schaper had made his intention to retire clear, it remained difficult for the Board to acknowledge that his final public meeting was at hand. "Talk about your learning journeys – 14 years as a Trustee, 23 years as principal at Memorial High School, 55 years in Spring Branch ISD," President Peck said. "It's been an incredible career, and he's likely not done yet. Thank you seems so inadequate, but it's filled with enormous feeling. We recognize Wayne tonight with a token – and I do mean token – of our deep appreciation. No tangible memento comes close to expressing our gratitude for the years of service and dedication, but we offer this anyway. Thank you, Wayne!"
Each Board Member spoke individually during the recognition about Mr. Schaper's qualities – high character, integrity, honor, dedication to community, 55 years of passion for education, collegiality and friendship, respectfulness, community insight and knowledge, public service, humbleness, commitment and love for others, to name a few.
"Your fingerprint on this school system is indelible . . . the district will always have the indelible fingerprint of Wayne Schaper on it, and we thank you," Dr. Muri said. As a final public act, Mr. Schaper seconded the motion on the evening's last official act. So in a real sense, Mr. Schaper had the last word of the evening.
---
Public Hearing on 2017 Budget
Associate Superintendent for Finance Karen Wilson presented the proposed 2017 Budget, beginning with preliminary assumptions. A public hearing was held after her presentation.
The 2017 budget covers the 2016-17 school year. Associate Superintendent Wilson noted that district budget assumptions included the following: support for District of Innovation and T-2-4 goals; no budget increase in salary or health insurance; proposed supplemental payment for full-time employees from the fund balance; $1.2 million in central office savings and efficiencies through use of modified zero-based budgeting; and approximately $200,000 in reduced expenditures.
The 2017 SBISD budget is based on no change in the tax rate, which has remained at $1.3945 since 2010. Property values are estimated to increase by 10.1 percent. SBISD expects to send away $66 million to the state through recapture, or Robin Hood. This payment is up quite significantly from $29.6 million and $8.2 million in recapture payments made in 2016 and 2015, respectively. The district's recapture payment is predicted to soar to $90 million by 2018 unless Texas legislators, who convene in January, make changes to the state's current school funding model. A review of recapture payments to the state by school districts statewide suggests that property wealthy districts like Spring Branch have increased total Robin Hood payments from roughly $1 billion a few years ago to about $1.5 billion today.
Due to the district's need to retain top talent, remain competitive and provide staff with added compensation, and with Trustees support and district stewardship, SBISD proposes a one-time, 2 percent supplemental pay plan (minimum $500) for all full-time employees. The supplemental pay is proposed in lieu of a raise so that SBISD isn't required to fund this amount on a yearly, sustained basis. Without a change in state funding during the year ahead, SBISD's revenue projections for 2018 decrease by $16 million or more. The district's fund balance is estimated to be 19.1 percent, or within an expected range for this type of special savings and emergency account. The supplemental pay will be provided through use of this fund balance.
Unlike state funding to SBISD, the district's bond and debt service plan is performing well. The debt service tax rate has remained at $0.3045 since 2010, and recent expenditures included a $28 million accelerated payment of principal.
Presentation >>
---
Adoption of Policy
Trustees gave a third and final reading to and then approved four Board policies unanimously. These four policies are: Innovation Districts; Performance Appraisal, Evaluation of Teachers; Performance Appraisal, Evaluation of Other Professional Employees; and TASB Update 104. Policies are posted online where the community is encouraged to view and comment before they are finally voted on.

---
Board Actions Including 2 Percent Supplemental Pay Plan
Trustees voted 7-0 to approve the school district budget and compensation schedule, which includes the 2 percent supplemental pay plan (minimum $500) for all full-time employees as proposed during the presentation and public hearing portion of Monday's meeting. The pay increase will be paid in two installments during the school year ahead in December 2016 and June 2017. Supplemental pay isn't included in TRS calculations for highest year average salary, but employees aren't required to pay the 7.85 percent TRS contribution on supplemental pay distributions.
As discussed before the vote, the pay plan was approved in lieu of a raise, which would require the district to pay on an annual, sustained basis. While next year's budget is flat, the 2017-2018 budget projections are much more challenging. As a part of its budget vote, Trustees approved spending $4.1 million from the district's fund balance for the supplemental pay plan.
In discussion before the vote, Dr. Muri noted that central office savings of $1.2 million resulted from a successful modified, zero-based budget process. Reorganization of central office staff to align with Strategic Plan goals was designed to be cost neutral and, in fact, reduced expenditures. Such actions, however, do not clear away the fact that the district faces "a multi-million dollar funding cliff" and an unsustainable budget in the future unless state funding changes. The 2 percent supplemental pay was made possible only through the Board's willingness to spend fund balance and continued good stewardship of funds, he said.
Board members encouraged the community to make SBISD funding a priority talking point with legislators who control education dollars. "We hope our community speaks loudly to our local legislators this year," Board Member Chris Vierra said.
Community support is vital to open the eyes of political leaders in Austin, Board President Peck added. For example, she noted that 21 percent of SBISD local tax collections now go straight to Austin for spending and redistribution rather than local classrooms.
On a separate unanimous vote, Board members approved health insurance rates for the 2016-2017 school year, with smaller increases than anticipated ranging from no increase in one plan option up to 3 percent. Employee benefits, including health insurance, represent a significant portion of the total compensation package for many SBISD employees. Although the district is not able to raise the level of employer contributions for next year, SBISD pays in total about $21 million toward the cost of employee health insurance premiums, or about 6 percent of the total district budget. Historically, the district has paid more toward these premiums than neighboring districts.
In other unanimous votes, Trustees approved the 2016-2017 Turnaround Plan for Spring Branch Elementary School, as well as elementary and secondary Student/Parent Handbooks, a Student Code of Conduct and Acceptable Use Policy, all for 2016-2017. A separate item involving Board professional conferences and training opportunities was also approved on a 7-0 vote.
---
Trustees approved the Consent Agenda. This agenda includes items considered to be routine, including minutes from previously held meetings, and are considered by the Board to be voted on as a single item.
Consent Agenda >>
---
---
This publication is distributed by the SBISD Communications Office.
If you have questions or input, please contact .